The Must-Have Home Trends For 2020
Jaymi L.
As always, people are looking for new ways to spice up the household. In this quest for ideas, some of them will become trendsetter while others will utterly fail. To avoid investing in eerie trends like fuzzy toilet seats and pink kitchens, you must stay focused and keep pace!
According to recent research and contemporary art movements, here are the must-have home trends for 2020:
WALK OUT BASEMENTS
These past years everything is about practicality and efficiency. The first thing you should consider is renovating your storage space. Basement remodels have been around some time, but recently there has been a sudden rise in popularity.
So forget about that old and dusty storage! Throw everything away and make way for new memories. Walk-out basements are a great way to start. With window wells and a bit of reconstruction, they can easily become the centerpiece of a home.
INDOOR GARDENS
You better start buying some seeds cause indoor gardens are among the most popular trends for 2020. Since lots of people cannot maintain an outdoor backyard, modern designers started to find ways on creating tiny magical plantations on the inside.
That's why indoor gardens today are what iPhones were in 2010. Luckily much more affordable, this groundbreaking trend is quickly spreading throughout the globe. From sunrooms to vertical gardens in the bathtub, this commodity will give your home the revamp it needs.
INDUSTRIAL FIXTURES
The perfect way to achieve a sleek, yet vintage look is to incorporate industrially styled elements. As we saw with basements, today's era is about exposing what lies underneath, so don't be afraid to show off your bathroom piping and living room bricks.
As in 2019, the industrial style will keep on trending this following year. Clever contrasting is the key for modernizing your household. So if you opt for a little garden in the shower, definitely contrast it with industrial fixtures and bold paint.
BUTCHER'S BLOCK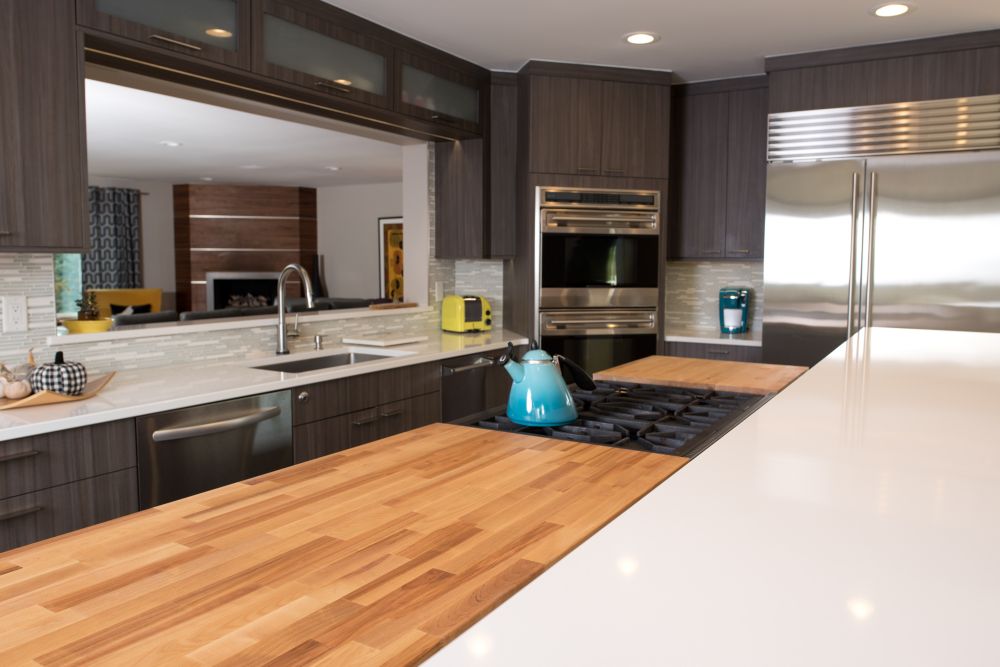 Kitchen and bathroom countertops play one of the most important roles in interior design. The countertop trends change on a regular basis, but with time homeowners realized how usually the best ones are stone, wood, and steel.
And with natural décor being on the rise, in 2020 expect to encounter butcher's block in almost every home. This rustic element instantly elevates interior looks. But, make sure you consult with experts to get the most resistant and durable product.
PATTERNS & WALLPAPER
Choosing the right color palette is the trickiest part of décor. That's why most designers start building their vision based on it. So how should you repaint your house? Well, the modern era is all about mixing up styles.
Bright and greyish walls are perfect for balancing out colors in the room. But, remember how in 2020 everything will revolve around patterns, unique designs, and wall art. Putting natural-themed or geometric wallpaper in your kitchen will do wonders for the space.
Whatever you decide, make sure an expert always has your back. Each home is different and professional contractors will help a lot you with decisions on color schemes, materials, and structural remodels.